Transform Digital Marketing for Agents
Now's the time to get empowered and learn new skills in digital marketing! This course features some amazing coaches, including Samantha McLean, Claudio Encina, Edward Smyth, Cameron Nicholls, Mark Edwards, Gina McCartney, Emma Barr and Hannah Blackiston, plus more!
This course covers:
Tips to nail your Facebook Lives
Should you be your authentic self?
Standing out on LinkedIn
Putting together Facebook Instant Experiences
Digital brochures using Canva
The five dimensions of your content plan
Setting up suburb alerts
What 'viral' content is and how you might achieve it
Building a basic messenger bot on Facebook (step-by-step plan)
Facebook custom audience creation and pixel retargeting
Social media quick wins
Instagram ninja tricks for agents
Cameras and electronic gear on any budget
Content Marketing 101
Facebook Premiere how-to
Getting the right type of media attention
Tools to keep you productive
Google Local Business setup
Email marketing 101 and starting to build your list
What to do with a bad review
Creating a basic WordPress landing page (step-by-step)
Putting it all together
The Completion Level of Your Training.
0.00%
Lesson 1: The Digital State of Play (2019)
This was a live webinar outlining the current state of play and some of the info was a bit out of date (although you can still download the slides using the links!)
Key points to remember about digital marketing as you go through this course:
People follow people more than brands
Consistency is everything
Your clients are being bombarded and they dread you giving them more of the same (you need to be different!)
Mobile influences everything (eg IGTV)
You can't be the expert in real estate – you need a sub niche
It's not about getting the most followers, but the right followers
If you aren't number 1 in your area, be a reporter (think like a journalist!)
Give value to your digital community before asking for a sale
Communicate with clients the way they want to be communicated with (not the way you want to!)
Hangout (online!) where your customer hangs out
Let people feel like what it's like to work with you
The three rules of digital marketing – Curate, Engage, Practice
Purpose for the platform – eg LinkedIn, Twitter, Instagram – all very different!
Tips on Facebook Live
Put your phone in Do not Disturb mode before going live
Use video mode on your phone and check your surroundings first – (and your teeth!)
Think about sound – we will get into that in Lesson 6
Check your energy
Smile
Once you are live
Don't 'wait for the audience to build'
Do say hi to people as they come on
Say hi and acknowledge people might be watching on the replay
Don't forget a call to action at the end (leave me a comment or a question!)
One last note: You'll hear days of the week being called out in this course – when we originally wrote this challenge it was a one day at a time thing and Saturdays were all about being out and about 🙂
Lesson 2: Some basic tips – Facebook, Instagram and realestate.com.au
Lesson 3: Saturday Instagram Quick Tips
Lesson 4: Authenticity vs Intention and why authenticity can be overrated!
Hey gang – Sam here.
Should you always be your authentic self on social media?
There are three reasons you should think about intention instead.
'Authenticity' is a word that gets used a lot these days. We often hear, 'I'm just being my authentic self,' or 'I'm just going to be real; who I am.' Even other people may be telling you if you're about to jump on stage to 'just be authentic'. Well, I'm here to tell you today this can actually do more harm than good!
'Authentic' is defined as 'of undisputed origin and not a copy', or 'genuine'. And each of us as humans are authentic by definition. 
But our definition of 'authenticity' seems to have broadened of late.
Lately, the practice of 'being authentic' has become an excuse for not knowing what else to do, or justification for displaying our emotional state: for example, tiredness, anger or even the odd teary moment. 
And this is not want a team or an audience wants (or needs!)
We don't want you to be 'authentic' if it involves emotions, which can be unreliable and cause us as humans to act in unexpected ways. 
Think about it: if we were outwardly 'authentic' in reflecting every single emotion we experience it would be extremely unproductive, as well as exhausting.
What we need is for you, as a leader, to be intentional rather than authentic. Here are three reasons why:
Intentions are reliable; they don't come and go like emotions or energy

Intentions are more useful; they are the channel through which you focus your 'authenticity' and turn it into real momentum

Intentions are attractive; and by that I don't mean pretty! Intentional people attract others by creating trust – which is one of the keys to influence.
Don't get me wrong; being original and genuine is a good thing. We engage with authenticity, but we are more likely to trust the strength of someone's intention. Having strong intentions and following through on them builds trust as a leader, an influencer or a speaker. 
What we don't need is the 'authenticity' of crying or ranting on stage, or showing up to meetings and acting tired, or being unprepared. None of these are things people are attracted to. 
If your goal is to lead or to influence others, it's much better for you to be intentional and to reveal your intentions to others. Talk about what is important to you, the sources of your intentions, the experiences that led you to them and your goals for the future. This is way more powerful than simply showing whatever you happen to be feeling at any given point in time. 
Authenticity is overrated. Focus on intention. 
Lesson 5: Standing out on LinkedIn
Lesson 6: ZOOM Guest Mentor Mark Edwards
Lesson 7: Facebook Instant Experiences
A late addition to this course (as Facebook keep changing everything) is the Instant Experience ad/post, which is almost the equivalent of creating a little mini website on Facebook. I had the opportunity to create one of these on the weekend with the content we made from the AREAs – so this is a little bonus look over my shoulder at how it's done.
At the time of posting this video – the cost per landing page view on our website is $0.32 which is half the cost of a usual link click (this is an example of the walled garden/TV channel type thinking at work… play in my garden and it will cost you less).
I do think this type of experience has a great application in property as you can create very rich experiences with photos, videos, calls to action and more. It could also be a great branding experience, either personal or for your agency, imagine an instant experience that could include your profile video, ebook/lead magnet and more.
But … wait there's more!
I just noticed that in Business Manager you can now create instant experiences that are just general posts – not ads – so again a great opportunity to stand out from your competition with an immersive experience…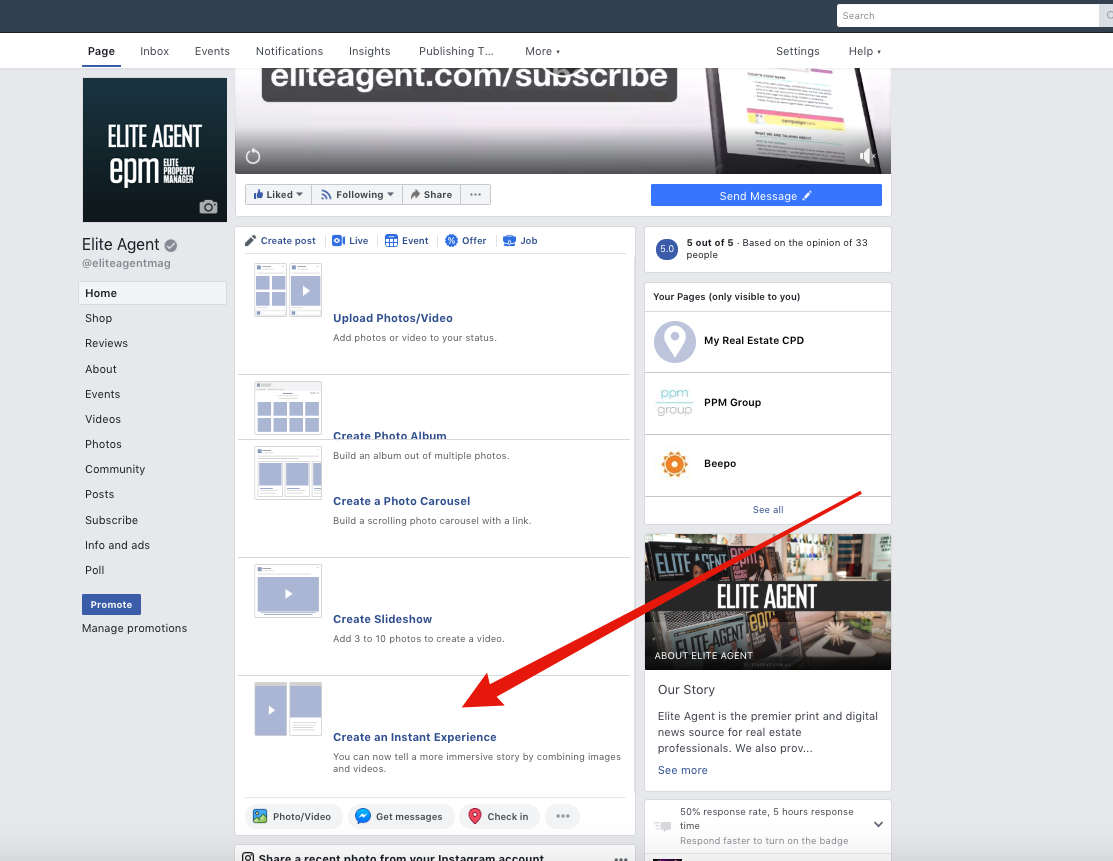 Lesson 8: What is content marketing anyway?
Today's Challenge: Download and complete the worksheet that goes with this video…
Downloads and Deliverables
Content Brainstorming Worksheet

Link
Lesson 9: Special Guest Cameron Nicholls
Lesson 10: Saturday Challenge + a Bonus!
Happy Saturday! No video from me today – get ready to make your own!
There is nothing like the energy of a Saturday in real estate – And there is no better time to start practicing those Facebook Live skills by going live – preferably on your business page, but if you don't have one go with your personal profile.
Here are some ideas/topics that your clients/followers may find value in
Top three things to get your home ready for the market
Is Christmas a good time to sell/lease?
What is something you will do today for a client that is unique to you/your agency? (Tell a story)
Top 3 marketing tips or places to market your home
The top 5 things to do before you list your home
How to make the most of an open home
Top 5 reasons why (your suburb) is the best place on earth to be
5 things you need to know as a first time homebuyer
Top 5 local cafes and why
Top 5 local boutiques and why
Top 5 local parks and why
The answer to a question you get asked all the time
Open house preview (a sneak peek after open time)
Top 5 things you can do to declutter your home
A live walking tour of your neighbourhood
A walk through an open home
A sneak peek at an auction
A story about an auction result
OR CHOOSE YOUR OWN
Tips:
1. Remember what we said about sound – try to make sure you are in an area where the sound will be good or plug your headset in. Also remember what we said about camera angles, lighting, checking hair, teeth etc.
2. Have a quick practice before you go live with a simple structure… eg who are you, where are you from and what you are going spend the next 5-10 minutes doing.
3. Don't forget to ask your audience for comments or questions about your topic when you wrap up! (You can even mention you are doing this program and this is part of your training if you have never been live before!)
To give this some extra 'life' without spending money boosting it – either/or both:
Share from your business page to your personal page – "I'm trying out this Facebook Live video thing as part of my course, sharing it here in case it's useful – let me know your thoughts…" (or something similar).
Share it to our group so we can see your fabulousness…!
You've got this!
And for further inspiration – if you didn't see it – here's #GaryVee from AREC a couple of years ago… (I especially like the bit where he talks about his life as content!)
Lesson 11: Could you present your next listing like a Hollywood Premiere?
Lesson 12: Enter the 5th Dimension…
Lesson 13: Meet the press with – Guest Mentor Hannah Blackiston
Lesson 14: Setting up Alerts
This is a short video from Sales Transform earlier in the year – showing you how to set up alerts, where to find inspiration plus a couple of other little tips on curating and saving content.
Your job today: Set up a google alert for your suburb
Lesson 15: How we stay productive and still get great content out on social media
Lesson 16: Special Guest Gina McCartney
Lesson 17: How to go 'Viral'
Saturday is show day so we expect you to be out and about – at opens, auctions and around the community. So if you're not taking photos for your Instagram or preparing your next Facebook Live –  you could be listening to this podcast which is part of 'Inside Influence' with my good friend Julie Masters in the hosting chair.
On the other side is one of the biggest experts in digital influence out there. Or more specifically, an expert in what makes a piece of content – whether that's a headline, a blog, a video, a social post or an article – actually get traction.
His name is Steve Rayson and he heads up a company called Buzz Sumo – a tool I mentioned this week in creating content. Basically, they analyse a heck of a lot of data on what really works, the importance of headlines, what makes things go viral and much more.
If you are out and about in your car today – you'll be more than happy you invested some time in this one!
Lesson 18: How to get cut-through with your content
Lesson 19: The single most important thing a local business can do …
This week, it's getting technical 🤓

Downloads and Deliverables
Lesson 20: Live Webinar: Guest Mentor Ed Smyth (Facebook Advertising)
Lesson 21: Special Guests Claudio Encina + Andrew Hermann
Lesson 22: Building a basic FB Messenger Bot with Guest mentor Emma Barr
Downloads and Deliverables
Building a bot workflow

Link
Lesson 23: Guest Mentor Emma Barr – Bots!
Lesson 24: Standing out in the crowd and providing valuable content
Lesson 25: Email Marketing – Selecting a system, and building a list
Lesson 26: Ratings and Reviews
Lesson 27: Creating a WordPress website/landing page
Lesson 28: Connecting a website to Google my Business, Facebook Pixels and a quick SEO optimisation
Lesson 29: Facebook custom audience creation and pixel retargeting
Lesson 30: Bringing it all together
Useful Information & Links
Downloads and Deliverables
Digital Transform Content Plan

Link